"I can just buy it cheaper from someone else."
Anyone who runs a business can relate to the above statement from a customer. If you have encountered this situation, the customer is trying 'to tell you something' to negotiate a better price. Because chances are, if they are willing to engage in this conversation, they are generally interested in your product. However, something might be holding them back from making a purchase.
In the world of digital signage, an uneducated buyer assumes that all enclosures are the same, no matter the manufacturer. When deploying LCDs outdoors, there are several factors that dictate the type of LCD enclosure that is required to bring the digital message to life.
One of the following 6 reasons might be why a customer is telling you that they can purchase an LCD enclosure cheaper through someone else.
They can, but they do not want to.
They can, but they should not.
They can, but they really cannot.
They cannot, because it is not cheaper.
They cannot, because it is unavailable.
They cannot, because it is not the same product.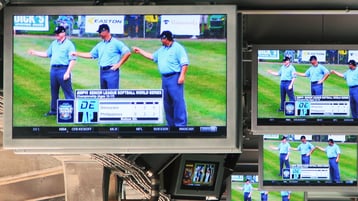 If the reason starts with "They can…", then the customer can likely find an acceptable replacement at a lower price, but they do not want to pull the trigger. Why? Perhaps the other company is a hassle to do business with or there is something about the company that the customer does not trust. Regardless of the reason, the customer is alluding that they do want to do business with you, but the price point is not something they are authorized to spend on the project. The tough haul will be proving that your company is worth the price.
Alternatively, the customer simply cannot find the same product you offer at a less expensive price…not to call the customer a liar…but the customer may be comparing the price of a Chevy to a Mercedes-Benz. Obviously, both are cars, but the quality of construction and features are not equally comparable. The same theory rings true for LCD enclosure products. Manufacturers of mounts or digital signage software are usually not experienced to deliver environmental digital signage products. There is a science to ensuring sensitive electronics remain operational in drastic temperature extremes, 24/7, and in direct sunlight.
The common reason a customer makes any of the above statements is because they cannot get anywhere near the same product for a less expensive price. However, do your best to educate the customer on the differences between the products, and let them make the decision if it is an acceptable replacement. In some cases, the less expensive product will be acceptable for the specific project – so simply "get to the no" and move on, because the sale was never meant to be.
Accept the fact that only those who truly see the value in a high-quality digital signage product will appreciate the differences between your product and a competitor.

For More Information:

HAVE QUESTIONS? LET US KNOW HOW WE CAN BEST ASSIST YOU! CONTACT AN 'ITSENCLOSURES EXPERT' AT 1-800-423-9911 -OR- SEND US AN EMAIL: INFO@ITSENCLOSURES.COM