Outdoor digital menu boards help in the ordering process, create a dynamic way to promote specials and limited time offers, and increase a Quick Service Restaurant's (QSR) bottom line.
At the beginning of a deployment, outdoor digital menu boards may seem like a significant investment. However, if done right, the benefits far exceed the upfront costs. According to Amy Borroughs, in her article, 'Digital Signage Saves Time, and It Can Also Save Money,' digital has many benefits, "digital systems eliminate a significant amount of paper-based communications. After an initial upfront investment, digital signage earns its keep through savings on professional printing, paper and ink cartridges, waste collection and the personnel required to create and distribute paper notices."
For outdoor digital menu boards to be a success, do the necessary research to determine the following:
What is the goal?
With any new project, the overall goal(s) is the very first item that should be considered. The goals can be any of the following: increase customer engagement, raise revenue, or create brand loyalty. Depending on the goal(s) set will dictate the QSRs overall content strategy. Do not move forward with the project until the goals have been defined and are clear to all parties involved in the project. Digital boards must be updated with fresh and relevant content, on a regular basis, to maximize your investment. Will your restaurant be able to handle the demands of updates? Failing to not properly prepare for the digital menus can be a colossal mistake.
Choose store(s)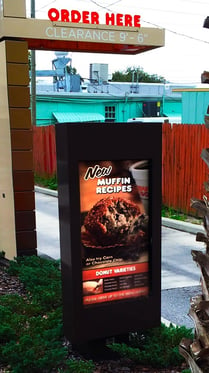 After setting the goals, determine the number of stores that will utilize digital menus. Deciding on the number of locations will help negotiate the best cost for the necessary hardware and software. Many companies will discount products based on large roll outs. Therefore, there will be a big price difference between 1, 25, 100, and 500 stores. A QSR may want to test a few markets, based on environmental extremes, to evaluate the ruggedness of the solution.
Select Hardware
The overall project goals will dictate what hardware is necessary. If the goal is to highlight promotional items to increase revenue, consider installing a presell board in the drive-thru. If the goal is to easily update menus with FDA guidelines and to have the ability to daypart, then a full digital menu board will be the best option. And, then, comes the most important aspect: research, research, research! There are a number of companies, on the market, that claim to provide outdoor solutions, but have never actually deployed them in an exterior environment! The 'solution' may be a few 'Photoshopped' images that were doctored up using some dynamic stock imagery. Be wary of these providers and always ask for references. Inquire where you can see the actual products deployed at a quick service restaurant near you. Seeing is believing!
Get a site survey
Site surveys are generally very inexpensive given the cost of installing new equipment in a drive-thru. Surveys usually cost under $500 and will provide a great deal of insight into how smoothly the installation will progress. If planning on installing multiple stores in a metropolitan area, you will likely be able to negotiate a better rate per survey. A number of items are discussed during the site survey, which include an evaluation of the existing footer, cabling and data wiring, and de-installation of current signage.

The cost of an outdoor menu project is dependent on the number of restaurants and the number of displays per location. Keep in mind, depending on the software and content provider chosen, they may have recurring monthly or yearly fees associated with their services. Be sure to figure these costs into your budget. Tegan Worrall, in his blog, "QSR + Outdoor Digital Displays = The Ultimate Happy Meal,' sums up outdoor digital menu boards at Quick Service Restaurants, "QSRs that embrace the opportunity to engage their customers through digital will not only outperform their competitors but will also differentiate themselves from other operators who have not changed the way they do drive-thru business for decades. By combining the influential capabilities of digital menu technology with outdoor displays, QSRs can drive sales increases, improve the speed of service and create happier, and hence, more loyal customers."
For More Information:

4 Mistakes to Avoid with Outdoor Digital Menu Boards

5 Tips for Deploying Outdoor Digital Menu Boards

3 Ways Presell Digital Menu Boards Provide a Great Experience




HAVE QUESTIONS? LET US KNOW HOW WE CAN BEST ASSIST YOU! CONTACT AN 'ITSENCLOSURES EXPERT' AT 1-800-423-9911 -OR- SEND US AN EMAIL: INFO@ITSENCLOSURES.COM