If your factory or manufacturing facility is dark, we have a bright idea!
Add a light to an industrial computer enclosure to achieve optimal lighting conditions.
Within an enclosure, the ability to direct light towards vital electronics helps improve maintenance efficiency. Distributing light throughout a cabinet is advantageous for accessing electronics or performing various tasks. The good news: an enclosure light is generally very easy to install. A few of the installation options include: a simple magnet, a screw for din rail or rack channel, or a clip mount.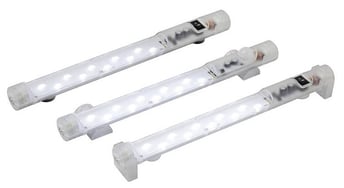 Popular choices for a computer enclosure light include a simple on/off switch, a plug, or a motion sensor that can be mounted inside of the computer enclosure. The motion sensor eliminates the need to reach into the enclosure to turn on the switch, thus saving time, energy, and money.
LED lighting offers energy saving technology (low wattage) and has a longer life than previous lighting options (up to 60,000 hours vs. only 5,000 hours). The cost for LED lighting will pay for itself in no time at all!
Computer enclosure lights also come with the option of integrated electrical outlets built into the unit. The outlets provide a convenient power source that can run internal components, as well as, any tools used while performing maintenance in the enclosure. Eliminate the need for power extension cords, which can become a tripping hazard for employees.
The interior of enclosures can be quite crowded with limited space available. Remember to mount the light in a manner that provides maximum visibility to the internal equipment. Research to confirm that the light fixture can be mounted horizontally or vertically inside the enclosure wall.
An enclosure light is a simple accessory that can be a huge help if performing maintenance on a computer and/or for changing labels or media on a barcode printer. By adding a light, an operator will be able to use the computer enclosure or cabinet to its full potential!


For More Information:

HAVE QUESTIONS? LET US KNOW HOW WE CAN BEST ASSIST YOU!
CONTACT AN 'ITSENCLOSURES EXPERT' AT 1-800-423-9911 -OR- SEND AN EMAIL TO: INFO@ITSENCLOSURES.COM