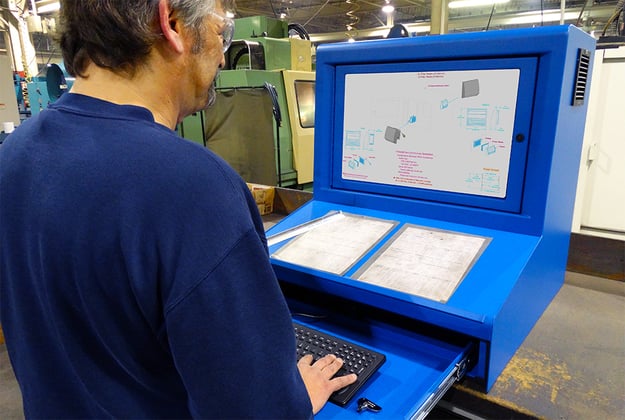 Using a vibrant and interactive touchscreen on a manufacturing floor is quickly becoming the norm in factory environments. A touchscreen can completely eliminate the need for a mouse and keyboard. For industrial users, it creates an efficient source for quickly finding a necessary solution or simply keeping track of inventory.
Can a touchscreen be used in a NEMA rated computer enclosure?
The answer is yes, but it does require specific equipment that is not available at a big box store.
For a touchscreen to function accurately in a factory setting, it must be panel mountable and properly installed in a NEMA 12 (dust, dirt, oil, splashing fluids), NEMA 4 (dust, dirt, oil, hose directed water) or a NEMA 4X (dust, dirt, oil, hose directed fluids, corrosive materials) computer enclosure. In order to maintain the proper enclosure seal, the touchscreen must have the ability to mount to the front door of the enclosure.
If the enclosure and touchscreen are exposed to water/liquids or need to be washed down, the enclosure and touchscreen must be rated for NEMA 4 or NEMA 4X. It is important to note that in order to use the touchscreen, the front of the screen must be open. If the front of the touchscreen cannot withstand water, a failure will occur, which could cause a significant loss of time and revenue.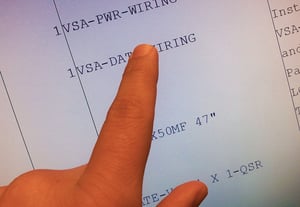 The enclosure manufacturer will need to know the make and model of the desired touchscreen. A custom monitor door will need to be fabricated for the specific touchscreen. Therefore, the enclosure door will be unique to the touchscreen specified by the customer.
Upon delivery to the factory or manufacturing company, proper installation will be quick and easy. The touchscreen will simply attach to the front of the door maintaining the required NEMA rating.
When choosing a new touchscreen for a computer enclosure, it is vital to note what setting the enclosure and touchscreen will be placed. Always do the necessary homework and choose the touchscreen that will work best for the computer being used, the specific situation and the harsh environment.
Touchscreen technology will continue to advance and keep factories and industrial atmospheres running smoother and more efficiently.
For more information about computer enclosures, reference: 5 Questions That Will Improve Your Computer Enclosure Decision
HAVE QUESTIONS? LET US KNOW HOW WE CAN BEST ASSIST YOU!
CONTACT AN 'ITSENCLOSURES EXPERT' AT 1-800-423-9911 -OR-




SEND US AN EMAIL:

INFO@ITSENCLOSURES.COM