ITSENCLOSURES' IceStation line of industrial products are the best option for your enclosure needs!
Since 1985, ITSENCLOSURES has earned a positive reputation for outstanding products. A popular choice among many large corporations and small businesses, ITSENCLOSURES' products are the toughest, most-durable computer, printer, monitor, electronics, and network enclosures available on the market.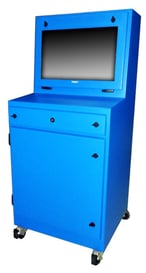 All of ITSENCLOSURES' (A Division of Integration Technology Systems, Inc.) high-quality products are perfect for industrial, manufacturing, and commercial applications from small form desktop enclosures to freestanding enclosures to waterproof, corrosion resistant stainless steel, sloped top enclosures. IceStation enclosures are available in many styles with a variety of NEMA ratings (12, 4, 4X), allowing a company to select a product that is best suited for a specific environment.
At ITSENCLOSURES, the mission is to safely enclose electronic devices in any environment, providing protection against harsh surroundings - like dust, dirt, particulate matter, contaminants, and splashing fluids, transforming equipment into more powerful tools, securing systems with lockable front/rear doors, and extending electronics' useful life. IceStation industrial enclosures eliminate costly downtime!
ITSENCLOSURES expertly assembles all in-stock items and ships products, ready to be used, direct to customers within a couple days of receiving an order. If a custom product is required, the engineering team will design the perfect solution to fit specific, enclosure needs. Fabrication of a custom product can be achieved within a 7-8 week window.
In addition to standard, off-the-shelf cabinets, ITSENCLOSURES offers a number of complimentary accessories configured to a customer's specific needs. Available accessories include a number of thermal management systems, waterproof keyboards, power cords, USB connectors, printer access doors, panel-mount doors,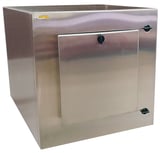 heavy-duty castors, window options (tempered glass, Lexan polycarbonate), tool-free rear split panels for quick cable access and management, purge systems, vented or solid shelving, cable entry glands, bolt down legs, and pedestals... just to name a few options.
Infinite configuration possibilities exist with IceStation products! When a customer places an order with ITSENCLOSURES, the rugged equipment will arrive ready for use upon delivery. The majority of ITSENCLOSURES' products ship through major delivery services – ground and motor freight.
Whether it is preparing an order in a fast turnaround time, serving valuable customers in a quick, professional manner, or engineering a solution to a customer's specifications, ITSENCLOSURES' customers can be rest assured that the best and most flexible service, in the entire enclosure industry, will be provided.
IceStation industrial enclosures ensure the utmost security of monitors, computers, and electronic equipment in hostile and outdoor environments.


For More Information:

HAVE QUESTIONS? LET US KNOW HOW WE CAN BEST ASSIST YOU!
CONTACT AN 'ITSENCLOSURES EXPERT' AT 1-800-423-9911 -OR- SEND US AN EMAIL: INFO@ITSENCLOSURES.COM