Installing a basic rack enclosure to protect servers and related hardware is simply not enough to ensure a reliable system.
Servers hold data that is mission critical and a component malfunction is detrimental to an IT system. Most equipment calls for operating temperatures to be maintained within 70-75°F. When deploying a rack enclosure, it is paramount to consider thermal management.
In the beginning, selecting a climate controlled rack server enclosure is reliant on several variables that cannot be ignored. Configuring the right enclosure for the job will take systematic research to determine how many 'U' (rack mount space; 1 rack unit is 1.75 inches high) the enclosure needs to be and how the electronics will be installed for the most streamlined process. Humidity, temperature, and a dirty environment will only complicate the situation.
Integrators should meet with the customer and discuss the electronics that will be housed inside of the rack enclosure and explain the limitations of the electronics surviving in the intended installation environment. Always work with a reputable enclosure company, who will request a cooling worksheet be filled out, to gain further insight to suggest and recommend the right cooling system.

The following questions should be asked to configure the most efficient thermally managed rack enclosure: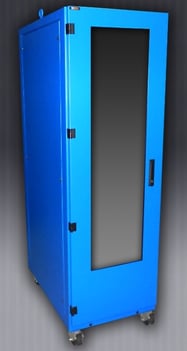 1. Does the system include a temperature and humidity sensor?
Maintaining a consistent temperature and acceptable level of humidity is important for essential systems. Many air conditioners have a temperature and humidity sensor built into the unit. However, when using cooling such as a fan, a separate humidity and temperature control may be advantageous. These sensors can be IP addressable and provide alerts that the system is nearing an unacceptable temperature/humidity level and should be checked rather quickly.
2. Is there room to grow with the proposed cooling system?
Select a climate control that provides enough cooling power compared to the heat output inside of the enclosure. However, consider the system in 1, 2, or even 5 years. There is a good chance that the requirements will change. Since high quality enclosure systems are an investment, it may be beneficial to size up the air conditioner, fan, or heat exchanger to accommodate future needs/equipment.
3. Is the cooling system scalable?
Understand the temperature fluctuations that a busy manufacturing plant in Alabama, for example, will experience throughout the year. Exposure to elevated levels of humidity and warm temperatures in the summer will require a different cooling solution than chilly winter months. Do not make the mistake of only being concerned with cooling in the summertime. Much like hot weather, electronics do not bode well in cold temperatures.

Ambient temperatures, as well as temperature extremes (high and low) are important to debate when configuring a rack server enclosure. Depending on what the ambient temperature is may help or hinder the thermal management required to provide an efficient system. Always err on the side of caution and prepare for the worst-case scenario. It never hurts to be over prepared when it comes to deploying enclosures in harsh environments!


For More Information:
-- 5 Ways to Keep Rack Enclosures Cool with Thermal Management
-- 4 Tips for Determining Computer Enclosure Thermal Management
-- It is Vital to Keep Electronics Cool Inside a Computer Enclosure

HAVE QUESTIONS? LET US KNOW HOW WE CAN BEST ASSIST YOU!
CONTACT AN 'ITSENCLOSURES EXPERT' AT 1-800-423-9911 -OR- SEND US AN EMAIL: INFO@ITSENCLOSURES.COM