Select the RIGHT Outdoor LCD enclosure!

Digital signage is everywhere! Most outdoor applications require some type of enclosure to protect the LCD and media player from weather, temperature fluctuations and vandalism. When chosen correctly, a LCD enclosure will ensure operation, up time and integrity to the overall solution.
There are many enclosure solutions on the market. If you research the options, you will discover there are four types of display enclosures. The key to selecting the right enclosure solution is understanding the installation environment for the digital signage.
4 Types of Outdoor Display Enclosures
1. Passively Cooled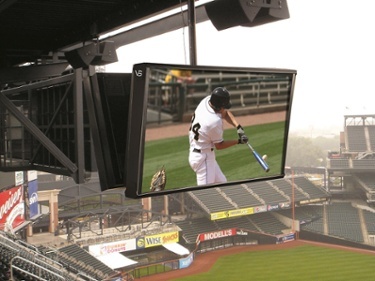 Vented LCD enclosures are popular in exterior environments with limited exposure to weather but theft and vandalism is still a concern. Mounting under a canopy or building overhang and stadium/university applications that are only operational seasonal are ideal deployments for passively cooled enclosures.
2. Fan Cooled
For high traffic areas where vandalism, theft and weather pose a problem, an environmentally sealed enclosure may be required. Fan cooled LCD enclosures generally have an operating range of up to 95°F when direct sunlight is not a factor. Ideal environments for fan cooled enclosures include transportation hubs and retail outlets.
3. Air Conditioned
In certain geographic areas, a fan cooled enclosure will simply not suffice. Many areas that can reach between 100° - 120°F during summer months will require an air conditioner to provide adequate cooling and allow the LCD to function within its recommended operating temperature. Keep in mind a manufacturer's warranty will be in void if the LCD is not kept within the operating temperatures listed on the specification sheet.
4. All-Weather
For exterior environments where direct sunlight and weather plays a role, an all-weather LCD enclosure will be necessary. It is recommended to pair an all-weather enclosure with a LCD that is rated at 1500 nits of brightness or greater for visibility outdoors. Depending on the operating range set by the LCD manufacturer will dictate the need for the enclosure to be fan cooled or air conditioned. Quick service restaurants, airports and ski resorts are applications that generally require an all-weather enclosure.


Be sure to research all the outdoor LCD enclosure products available on the market. Do not base your decision solely on price. The phrase "you get what you pay for" goes a long way when sourcing the best hardware for a digital signage project. Regardless if your goal is to increase brand awareness, wayfinding or advertising, make sure your digital signage message will be visible 24/7 and protected in the RIGHT outdoor display enclosure.
For more helpful hints in choosing hardware for a digital signage project, reference our blog post: 6 Digital Signage Hardware Considerations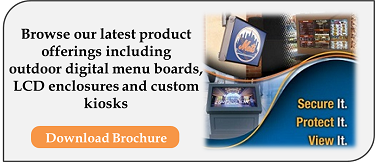 HAVE QUESTIONS? LET US KNOW HOW WE CAN BEST ASSIST YOU! CONTACT AN 'ITSENCLOSURES EXPERT' AT 1-800-423-9911 -OR- SEND US AN EMAIL: INFO@ITSENCLOSURES.COM