There are many reasons that manufacturers, especially in the food processing or pharmaceutical industry, use a NEMA 4X Zebra printer enclosure.
Barcode printers, such as Zebra or Sato, are commonly used to print product or shipping labels on the plant floor. However, these climates can present a unique set of challenges for washdown areas. When the cleaning process occurs, it is advantageous to find a solution where the printer will not need to be removed from the environment.
The following 6 benefits will help determine the best solution for your specific application.
1. Manufactured from Food Grade Stainless Steel
A stainless steel Zebra printer enclosure is meant for wet, hostile environments. Choose a manufacturer with a solution that uses Type 304 Stainless Steel or the option to purchase an enclosure in Type 316 Stainless Steel. Food grade stainless steel has a high resistance to corrosion/staining and is naturally antibacterial.
2. Print Media Access
Busy manufacturing plants can print labels at a quick and efficient pace – on average, 30 to 60 labels a minute! Through the enclosure's printer access door, users can swiftly and safely retrieve paper and labels. The door must be easily closed, secured, and maintain a NEMA 4X seal to prevent water from entering the enclosure during the cleaning process. Avoid using an enclosure that has an open slotted path for the labels to exit the enclosure, as this will not provide the necessary protection when the Zebra printer is going to be exposed to washdown cleaning.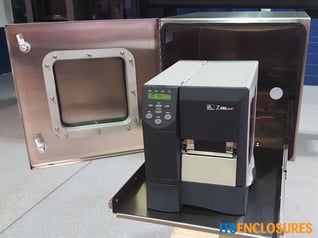 3. One Size Fits Most
The right Zebra printer enclosure will be designed to house various popular barcode printers available on the market. Find an enclosure supplier that can provide a solution that fits most makes and models of Zebra barcode, thermal, and/or label printers. Another positive aspect of this type of enclosure - if the printer is end of life or needs to be replaced, the enclosure can continue to be used with the new, replacement printer.
4. Water-Repellent Seals
The type of locking hardware and window gasket is also an important aspect to consider when choosing a NEMA 4X printer enclosure. The gasket (shaped piece of rubber) should be expertly fitted to the door, thus preventing damage to enclosed equipment during washdown. Stainless steel, quarter-turn compression latches should also be utilized to ensure that the doors are closed tightly.
5. Thermal Management
To create the proper thermal transfer on a label, Zebra printers require a temperature range of 32°F to 104°F. A heat source is necessary when using a printer in a cold, damp area. Installing the printer inside of a sealed printer box enclosure - with a supplemental heater - will ensure the appropriate operating temperature is maintained. In addition, a NEMA 4X enclosure will eliminate condensation in freezer areas. Condensation will often occur when the printer is moved in and out of a cold environment.
6. Multiple Mounting Options
Printer enclosures can be secured to a pedestal - mobile or bolt down, an existing desk, or mounted on a wall. It is imperative to mount a printer enclosure to a stable surface, especially if the enclosure has a sliding shelf and it needs to be fully extended when changing the print media or labels. With the weight of the heavy-duty barcode printer, some enclosures may be top heavy and tip over.
For these reasons, stainless steel is the perfect fit for wet or food prep areas. According to the website, Reliance Foundry, "A large volume of stainless steel produced today (especially 316 stainless steel) can be found in products related to the food and beverage industries. Stainless steel is commonly found in commercial kitchens and food processing plants as it serves a variety of needs, such as the fact that it can withstand shock and abrasive conditions found in kitchens or food processing plants and it can be easily cleaned, and can withstand repeated washing with the many chemicals and detergents employed to meet public health demands."
Waterproof and constructed out of food-grade stainless steel, a NEMA 4X printer enclosure safeguards your vital electronic equipment against dust, oil, grease, dirt, corrosion, bacteria, and even physical impacts. Utilizing a printer enclosure will protect your investment and keep it up and running for many years into the future – saving time and money!


For More Information:
-- Finding the Perfect Zebra Barcode Printer Enclosure
-- 3 Areas Printer Enclosures Protect Zebra Printers
-- 3 Problems Heated Printer Enclosures Solve for Zebra Printers



HAVE QUESTIONS? LET US KNOW HOW WE CAN BEST ASSIST YOU!
CONTACT AN 'ITSENCLOSURES EXPERT' AT 1-800-423-9911 -OR- SEND US AN EMAIL: INFO@ITSENCLOSURES.COM