For decades, Quick Service Restaurants (QSRs) have relied on static menu boards in the drive-thru. This strategy is ineffective, limited in nature, and 'old school.' Digital is Dynamic!

In the past few years, most QSRs have deployed some form of digital signage INSIDE the store, but not in the drive-thru. Ironically, approximately 70% of a QSR's business is derived OUTSIDE at the drive-thru.
Skeptics are always quick to argue "Digital menu boards cost a lot more than static menu boards!"
However, when the actual math is completed, are digital menu boards really more expensive than static menu boards over the course of time? The common mindset is to compare the initial cost of static to digital. Obviously, digital will always be higher, because the comparison is apples to oranges. This notion only considers the original purchase price, and not the total cost of ownership, the potential uptick in sales from digitally featured menu items, and the ultimate flexibility of digital features.
The flexibility of a digital presell board allows the investment to pay for itself over time. With a digital sign, it is simple to showcase multiple items at once, promote limited time specials, or offer discounted pricing to move store inventory -- keeping all stores up-to-date in real time. According to the article, 'Digital Signage Market Size, Share, Trends, Growth Analysis, Industry Research Report, 2023,' digital signage is becoming a valuable marketing tool, "A paradigm shift has taken place in the pattern of content communication wherein traditional techniques (newspapers, radio, online banners, social media, etc.) which were used for marketing an organization's products & services are now being thoroughly replaced by digital signage which is considered to be more effective and economic."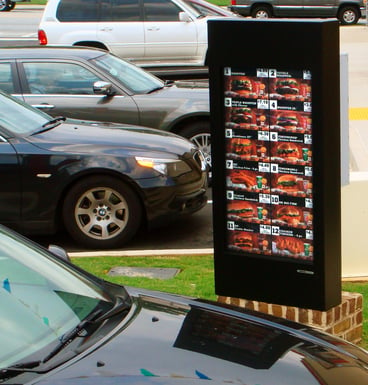 It begs the question – "Can you afford not to install a digital menu presell board?"
It is human nature to judge new things by an initial appearance. It might sound cliché, but you never get a second chance to make a first impression. Utilizing a digital presell board is smart and cost-effective compared to installing a large digital menu board at the order entry point. With a presell board, customers entering the order que will be immediately influenced. Suggestive selling just before the point of order works!
Consider this: "What is the opportunity cost of not implementing a digital menu presell board in the drive-thru?"
Although initial start-up costs may be discouraging for smaller businesses, every size business should prioritize the area of the drive-thru lane that will yield the most return – THE QUE LINE! Presell digital menu boards are now significantly less expensive to install (compared to just 5 years ago) and provide countless benefits to a restaurant.
Also, consider the amount of waste that is produced with static menu boards and presell. There is a significant consumption of printed and plastic material every time there is even the slightest change to a menu. Think about all of the static menu and drive-thru advertisements that reside in landfills or are blown away by mother nature just after installation.
QSRs are slowly realizing the benefit of switching to a digital presell board and/or menuboard system. Content created for inside is now easily adaptable to the outdoor application of high quality digital menuboards.
Critics of digital boards ask "Are digital menus worth the switch? Why not keep static menu boards?" The answer lies in whether one believes that dated strategies will continue to receive the same or diminishing returns on investment. Lack of change in the drive-thru reduces sales and has customers simply repeat past orders out of convenience. Digital menu boards are a modern call-to-action and will increase sales of promoted items! Digital signage is an investment, and when done right, results in an efficient, smart business decision. Emerging leaders in the QSR industry are migrating to digital menus – chances are your competitors are already making or planning the switch to digital in the new year
Are you ready to 'go digital?' Time to get on Board with the Digital Change!


For More Information:

HAVE QUESTIONS? LET US KNOW HOW WE CAN BEST ASSIST YOU!

CONTACT AN 'ITSENCLOSURES EXPERT' AT 1-800-423-9911

-
OR-
SEND US AN EMAIL: INFO@ITSENCLOSURES.COM