Ready to move forward with digital boards inside of the store and outside at the drive-thru?
A vibrant digital presence can garner a sales surge and make a quick service restaurant (QSR) stand out from the overcrowded 'fast food' pack. Making the decision to switch to digital menu boards is the first step, but it is simply not enough to sell more double cheeseburgers and banana smoothies. A strong, digital content strategy is absolutely crucial to the overall success of the project. The strategy should be well thought out and focused on the goals of the restaurant. It will take a savvy team of experts to create the content that will lead to an increase in sales. The return on investment (ROI) is critical and should be at the forefront of the planning stage. What needs to be analyzed, before the introduction of digital menu boards?
4 Ways to Measure the Effectiveness of Digital Content
Marketing Message
Menus should reflect the current QSR marketing campaign inside and out.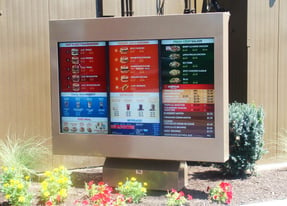 Arby's "We Have the Meats" slogan is used consistently and is a large part of all of their various campaigns. Consistent branding is a large key to success for any company, and therefore it is important that all menus reflect the correct specials or LTOs (Limited Time Offers). When Dunkin' Donuts added an all-new coffee in the fall of 2014, it was a huge undertaking. Jason Daley, Entrepreneur Magazine, explained, "It meant reprogramming machines, retraining staff and finding ways to alter routines without slowing down service. Dealing with changes in operations—getting the gears to turn and all the pieces to line up so a business can generate the most income—can be difficult for a widespread franchise system." If every Dunkin' had digital boards, then the branding, pricing, and overall marketing of the new dark roast coffee would be simplified and therefore decrease the stress for employees and save money in the long run.
Target Audience
Restaurants should always ask,"Am I making the most out of my strategy?" The magic and awe of digital menu boards allow the restaurant to appeal to various target markets throughout different times of the day. Menus can feature different types of products, depending on the busy executive on-the-go in the morning (coffee, breakfast sandwich, and hash-brown) vs. lunch crowd (sandwiches and chips) vs. parents taking kids to soccer practice (anything to make the children happy) vs. the late night 'snackers.' A few years ago, Taco Bell introduced the 'fourth meal,' which was designed for people that are out and about late at night. The slogan for the campaign: "You're Out. You're Hungry. You're doing Fourth Meal." With digital menu boards, this late night menu can only highlight the 'fourth meal' food that is offered at such a late time; food that is most likely easier to make and eat. When the sun rises, the breakfast menu can be changed over (Heard of the AM Crunchwrap at Taco Bell? It has a hash-brown inside of a taco, genius).
Menu Content
McDonald's has realized the importance of customer service outside of the restaurant and are in the process of speeding up the drive-thru, along with making the board easier to quickly review.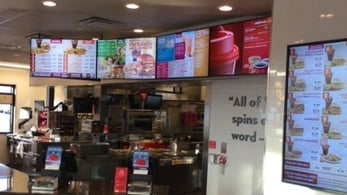 Kate Taylor, Entrepreneur Magazine, described McDonald's changes, "[McDonald's] reportedly plans to change up menu boards to display only the top selling drive-thru items, in hopes of speeding up and improving service. After franchisees criticized the option for not being drive-thru friendly, the company is now expanding a variation on the concept called "Taste Crafted," which allows customer to order customized chicken sandwiches and burgers from the same "premium" menu at the counter or via drive-thru." When first using digital menu boards, it is very tempting to throw everything at the wall to see what will stick, but in this instance, sometimes less is more. Create a menu board that is easy to read, easier to navigate and highlights new food times or LTOs (Limited Time Offers). Refrain from putting too much content on the screen, as it may become overwhelming for the end user, and, therefore, hinder the overall customer experience. There is a happy medium, but it may take some time to figure out the right balance. Digital boards are ever-changing and it is very tempting to constantly change the menu, but it should be done in moderation, so that the restaurant can measure what is working and what needs to be 'deleted' from the system. Side note: McDonald's used to sell Spaghetti!
Layout
Video or lively animation are a great ways to catch the customer's attention and entice them to purchase a menu item or try something new (often at a lower cost than normal). However, customers might not be as savvy and 'in the know' as one might think. Oftentimes, customers only know the greatest hits, like Big Macs, Whoppers, or Blizzards, and may have never heard of the latest and greatest hamburger that is only available for a limited time, like the Bacon Portabella Melt on Brioche at Wendy's. When using video or animation, a restaurant needs to tell a story (a brief one) about the product, show the cost (regular or sale), and entice the customer to give it a try. A restaurant must make sure that the video has a wow factor and creates a buzz, or they will be creating confusion and not taking full advantage of what digital has to offer.

If a content strategy is not clearly defined, it may not be the time to switch to outdoor digital boards in the drive-thru or even indoors. Examine daily sales trends and base a strategy around what customers are already ordering. A little digging might conclude that the time is right to use digital for all menu and marketing needs. Eye-catching graphics and bright LCDs can generate efficiency in ordering and make the experience dynamic and unique every time that a customer visits the restaurant. Positive experiences make for repeat customers!
HAVE QUESTIONS? LET US KNOW HOW WE CAN BEST ASSIST YOU!
CONTACT AN 'ITSENCLOSURES EXPERT' AT 1-800-423-9911 -OR- SEND US AN EMAIL: INFO@ITSENCLOSURES.COM