How well does WiFi work when a device is enclosed in a fully-sealed, steel computer enclosure?
The most commonly used industrial computer enclosures in manufacturing environments are constructed out of metal – powder coat finish or stainless steel. A non-metallic enclosure can be used to promote a stronger wireless signal strength, but steel enclosures are more rugged, heavy-duty, and will withstand the test of time. Unfortunately, when enclosing a wireless device(s) inside of a steel enclosure, the WiFi signal can be weakened or non-existent.
The following tips can improve the signal of wireless devices inside a computer enclosure.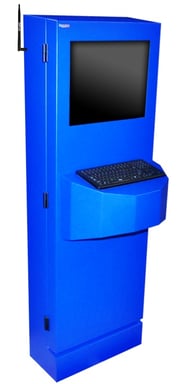 Sealed Device Antenna
Most WiFi devices use an antenna that is sealed in a plastic or rubber casing. A very simple way of exposing these types of antennas on the outside of a NEMA rated enclosure is to simply pass them through a Roxtec cable entry gland. Positioning the antenna to pass through the bottom of the enclosure provides an extra degree of protection for the antenna. It may take some additional effort to position the antenna, but will be worthwhile when a strong connection is established for the wireless device.
Add an External Antenna
If utilizing the device's attached antenna is not an option, consider placing an external antenna, or antenna lines, into the metal enclosure. This allows more effective antenna radiation and better performance characteristics. However, be sure to test the effectiveness of the antenna to ensure the wires are not covered when a person is using the workstation.
Place Wireless Device by Window
It can be advantageous to install the WiFi device as close to the enclosure monitor window as possible. It is thought that this allows the antenna to radiate without disruption, but it is still not a perfect solution. If the device is large, with plenty of space between antenna and enclosure, a window may suffice. Even then, performance levels may be far from acceptable.


Metallic industrial computer enclosures do pose real antenna integration challenges to engineers and integrators. In many cases, a WiFi-enabled device can be placed directly into an enclosure, with only minimal signal loss. As with any new deployment, it is highly recommended the preferred method is tested in your environment before making a final decision. Remember – choosing the correct seals and closures to secure the cabinet and maintain the NEMA rating are extremely important and impact the integrity of the overall system.
For More Information:
-- Why Manufacturing Facilities Need Computer Enclosures

-- 8 Keys for Selecting the Proper PC Enclosure

-- Best Accessories for Freestanding NEMA 4X Computer Enclosures



HAVE QUESTIONS? LET US KNOW HOW WE CAN BEST ASSIST YOU! CONTACT AN 'ITSENCLOSURES EXPERT' AT 1-800-423-9911 -OR- SEND US AN EMAIL: INFO@ITSENCLOSURES.COM