Self order or checkout kiosks have been around for many years.

In the last couple of years, self order kiosks have become more of a conversation piece for many differing reasons. Some people love them for the simple convenience that they offer and the ability to customize an order. Other people dislike them, because they take away human interaction and, if someone is not familiar with how they work, it may take longer to place an order. In this blog, we will show you four thought-provoking elements of a kiosk to consider.
4 Reasons to Deploy Self-Serve Kiosks at a Quick Service Restaurant
1. Less Bodies Behind the Counter
QSRs are leaning towards a new trend: employing less bodies behind the counter to take orders. Beside the economic reasons that QSRs are exploring the use of self-order kiosks, freeing up employees behind the counter provides more time to be a "hands-on" store. This means that employees can deliver orders to customers sitting at tables versus having them stand awkwardly in line waiting for food to arrive. Refilling drinks, handing out more ketchup, or asking how the food tastes helps improve the overall experience for customers and provides a hospitable/friendly environment.
2. Desire for Technology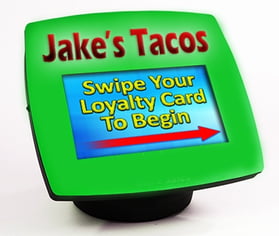 The age range of 18 to 35-year-old Americans crave technology and are always searching for a solution that creates the least amount of effort to produce a desired result. Therefore, it could be said, that if ordering at a QSR was made easier or quicker, young adults may be more likely to frequent the establishment on a more regular basis. We live in an age where younger generations are constantly behind some type of screen, whether it be a phone, laptop, or tablet, so using a self-serve kiosk would be very easy and advantageous.
3. More Efficient
An efficient, self-checkout kiosk will quickly move customers through the ordering process and allow them to customize their food selections. Being able to pick your cheese, toppings, condiments, and bread type with a click of a button is very appealing. During peak times, restaurant operators may send a couple employees on the floor to help customers place orders - if the kiosk concept is new. By using kiosks, the restaurant will increase customer service and efficiency at the same time. As customers become more familiar with the kiosk, it will continue to keep the line moving, which will mean less wait times and, hopefully, more customers!
4. Loyalty Card
With the ability to scan a loyalty card at the point of entry, QSRs can specifically customize the order process for patrons. Customers can potentially save their favorite menu items or value meal, link a credit card, and gain points for free merchandise. Based on the customer's frequency of visits or previously purchased items, specials or discounts can also be part of the loyalty card, thus enticing the customer to return to redeem. These features help to enhance the brand image and, again, improve the overall experience for the customer.

Flipping the tables on how QSRs have always done business may be a tough pill to swallow for some chains, while others are adapting, albeit slowly. However, a fresh look at how technology can improve the customer's experience, reduce overhead costs, and improve store efficiency cannot be ignored. We always need human interaction, but this can be handled in a new way that makes the overall dining experience a positive one for the customer and the restaurant. If both parties are happy, then it is a win-win for everyone. Plus, return customers will be a given! Mark Uzunian's study, "The Importance of Repeat Customers," states that "steady customers help businesses weather lean economic times; businesses with 40% repeat customers generated nearly 50% more revenue than similar businesses with only a 10% repeat customers."

For More Information:

-- 3 Digital Signage Kiosk Solutions for Virtually Any Environment
-- 3 Reasons Retailers are Using Instant Credit Kiosks
HAVE QUESTIONS? LET US KNOW HOW WE CAN BEST ASSIST YOU! CONTACT AN 'ITSENCLOSURES EXPERT' AT 1-800-423-9911 -OR- SEND US AN EMAIL: INFO@ITSENCLOSURES.COM