Deploying high-bright digital menu displays with enclosures takes research and strategizing.
Static menu boards, at the drive-thru, are not as prevalent as they once were, as Quick Service Restaurants (QSRs) revamp their strategy to include digital signage solutions (both outdoors and indoors). As technology improves, restaurants are adding innovative, easy-to-update digital displays (with all-weather enclosures) to present eye-catching animations and videos.
Outdoor digital menu boards make it simple for a restaurant to change prices, promote special food items or drinks, remove a sold-out product, boost sales, improve overall service, and increase the restaurant's brand. Several factors must be considered when researching outdoor digital menu boards, including trustworthiness, how easy is it to use, and can the digital boards achieve long-term sales goals?
Four factors to successfully deploy outdoor digital menu boards:
1. Clearly Define the Goals
When it comes to outdoor digital displays, a QSR must define goals that will need to be accomplished to have an effective deployment. According to Jason Shelton, National Account Manager for NEC Display Solutions of America, Inc., it is vital to define the plan, "Make sure you have all the clearly defined goals — your technology strategy if you will. Make sure you define your short-term goals and long-term goals." For example, a short-term goal might be to set a sales target for a limited time offer (LTO). To accomplish this goal, a QSR would display original content that promotes the LTO and then determine if the digital signage boosted sales of the menu item. Another long-term goal might be to decrease order times, by utilizing the right message on the high bright displays, so that customers know what they want to order at the drive-thru. Digital signage solutions can be used quite well to upsell and introduce new menu items.
2. The Cost of Digital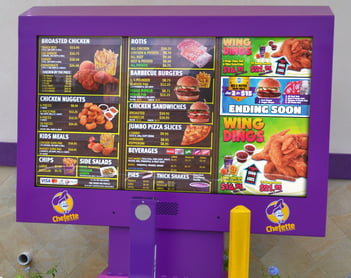 One of the largest factors for restaurants considering outdoor digital signage is, "how much will all of this cost?" However, it should be noted that the affordability of outdoor digital menu boards (monitor, enclosure, installation) has improved over the last few years. Ten years ago, most companies could not afford the price tag, but now it is almost unheard of to not have some type of digital signage at a QSR. "One reason we're seeing a shift to digital is [that] solutions are comfortably priced, even compared to a static solution," Jason Shelton says. "It's important for [restaurants] to look not only at digital displays, but also at what it is they are trying to achieve as it compares to static displays." Other aspects of the digital system to consider in the budget include media player(s), software, and a reliable network. In addition to choosing the right product, the QSR should look for a provider that offers a warranty and support.
3. Prevent Monitor Failure
For any QSR, dependability is crucial, especially outdoor menus. If the high bright monitors turn off or fail, then the drive-thru will, unfortunately, stop altogether. If such a failure would occur, then the QSR could hand out sheets of paper with the menu, but this would reflect very poorly on the restaurant. High bright monitors usually have ratings that need to be studied copiously. Monitors may only be rated for 12-16 hours a day, which might be adequate for a large majority of operators. There are also monitors rated for unlimited usage, which many restaurants - that operate around the clock - are looking for these days. By checking on the usage, the warranty, again, might also come into play, especially if a QSR has the monitor on for an extended period, when it is not rated for such. In addition, when searching for the best monitors, the quick service restaurant should consider anti-glare screens, high-resolution displays, and all-weather enclosures to protect the monitor.
4. Eliminate Chance for Mistakes
In the end, the interface is a very vital piece to the overall digital puzzle. It should be quick and simple to switch out the messaging for new menu items or seasonal offers. Make sure that the chosen monitors are compatible with several types of systems, so that the user can change menu items by switching out a media player or via the cloud. Cabling and network requirements should also be considered before installation.
Overall, quick service restaurants use outdoor digital displays with enclosures to keep a steady stream of traffic, engage with customers, and control energy costs. When it comes to digital signage, vibrant graphics and fancy animations are just the tip of the iceberg. The end goal is to compete in a crowded 'fast food' environment. If a strategy is set in place before the monitors are turned on, then the digital project will be a huge success!

For More Information:
-- 4 Reasons Your Restaurant Needs Outdoor Digital Menu Boards
-- 3 Common Misconceptions for Digital Drive-Thru Menu Boards
-- Can You Afford Not to Install a Presell Digital Menu Board? Digital Sells More!


HAVE QUESTIONS? LET US KNOW HOW WE CAN BEST ASSIST YOU! CONTACT AN 'ITSENCLOSURES EXPERT' AT 1-800-423-9911 -OR-

SEND US AN EMAIL:

INFO@ITSENCLOSURES.COM