Looking for a NEMA 4 pc enclosure that can house a computer, monitor, printer, and keyboard?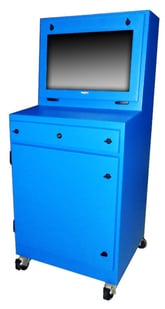 Have you met the NEMA 4 TITAN by ITSENCLOSURES?
It is perfect for any shop floor, warehouse, factory, or loading dock.
Intended for both indoors and outdoors, the computer enclosure is an all-in-one, industrial enclosure, which will protect a PC and electronics from windblown dust, dirt, hose directed fluids, corrosive materials, and most weather conditions such as rain, snow, sleet, and external ice formation. Measuring 60-inches high by 28-inches wide by 27-inches deep, the heavy-duty NEMA 4 TITAN features a 14-gauge welded steel enclosure body and 12-gauge door thickness.
The free-standing NEMA 4 TITAN includes the following standard items:
24-inch 16 x 9 wide screen monitor
Tempered safety glass viewing window
Adjustable shelf, attached to uni-strut (lower cabinet)
Monitor shelf with popular VESA mounting patterns
Lift-off hinges on the rear and lower front doors
Sloped work surface
Integrated keyboard drawer with ergonomic wrist-rest
Quarter-turn, knob style compression latches
Dual durometer EPDM gasket
Heavy-duty, swivel casters
These items are all valuable features, but what additional options are readily available to create the perfect indoor/outdoor TITAN?
Accessories to Contemplate:

Bolt Down Legs – All of the free-standing TITANs are equipped with industrial casters that enable the enclosure to be mobile around a factory floor. If the TITAN needs to be anchored into place, bolt down legs can easily replace the casters. The legs measure 3.25-inches high x 23.5-inches deep.

Cable Entry Glands – Wires, cables, and cords will need to enter and exit the cabinet, and a sealed cable entry gland can be installed on the enclosure for access to power sources. Cables can be routed through tight modules, which will protect against dust, dirt, and water entry. The modules peel away (much like an onion) to allow for cables of varying diameters. The modules are then installed around the cables and a compression unit is tightened for a reliable seal.

Panel Mount Door – Looking to install a panel mount monitor or touchscreen? A custom panel mount door can be fabricated to fit your specific monitor choice. The make and model of the monitor would need to be known to create the custom door (lead time may vary).



Hinged Printer Door – Planning on deploying a barcode printer on the inside of the TITAN? Consider adding a water-tight, hinged printer door. The built-in printer door will permit access to printouts and labels, without having to open the larger bottom enclosure door. The location of the printer door can be fitted, on the bottom door, based on the height and size of the printer.





Sliding Shelf Brackets – As previously mentioned, the NEMA 4 TITAN includes a fixed, adjustable shelf for electronics. By adding sliding brackets to the shelf, access to the printer, computer, or other various electronics will become simple. The sliding shelf is particularly accommodating when accessing the rear of a computer or a printer to change media/labels.



Thermal Management – An outdoor filtered fan system, air conditioner(s), NEMA 4 heat exchanger, or a NEMA 4X vortex cooling unit can be added to the NEMA 4 IceStation TITAN to provide cooling and airflow. If unsure which system best suits your needs, please consult an ITSENCLOSURES representative for a cooling recommendation. Heaters, available in various wattage sizes, are also offered.





Surge Protector– Every TITAN needs a little power! Adding a 6-outlet surge protector to the inside of the TITAN will enable a user to plug in various electronics, including computers, printers, and UPS-(Uninterruptible power supply) units. The surge suppression shields connected equipment from performance problems due to surges.


The NEMA 4 IceStation TITAN is available in Blue, Gray, or any custom RAL color of your choice. Proudly made in the USA, IceStation products are completely assembled and ready to use upon delivery.
Designed to meet the challenges of the harshest environments, the TITAN is available in 6 different models, including the NEMA 12 TITAN and the NEMA 12 Hammerhead.
For more information, visit the TITAN product page
Related Blogs:
-- Creating the Perfect IceStation TITAN Hammerhead Computer Enclosure
-- How to Create the Perfect IceStation TITAN Computer Enclosure


HAVE QUESTIONS? LET US KNOW HOW WE CAN BEST ASSIST YOU! CONTACT AN 'ITSENCLOSURES EXPERT' AT 1-800-423-9911 -OR- info@itsenclosures.com