Looking to deploy outdoor digital signage for your company or client?
When considering a digital signage solution, there are many items to consider, including screen size, enclosure material, and thermal management. However, one of the main topics of concern is the location of the digital sign. Like retail space, real estate, and restaurants, when installing digital signage, location is everything! Location, Location, Location. You simply cannot purchase and install digital signage without first considering the various factors that may hinder visibility and longevity. The sun plays a large role in whether the digital signage will be a success or failure. There are a few things that, when prepared and planned properly, will create the perfect environment for any outdoor digital deployment.
3 Tips for the Perfect Installation Location
Stay Away From Sun – The sun beating down on the LCD monitors will create a few issues, including visibility and harmful heat load. If you are not using an LCD enclosure solution that is meant for 'all weather,' avoid an installation location that is in direct sunlight for the majority of the day. Turning the enclosure 90 degrees can make a significant difference. In Fritz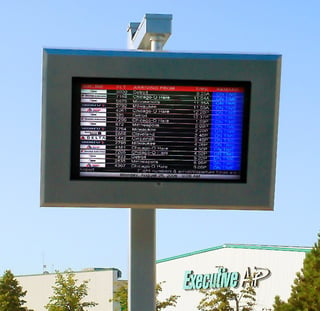 Esker's article, 'Staying bright, keeping cool: Keys to outdoor LCD displays,' he discusses the sun's negative effect on digital signage, "The first major technical issue that must be addressed in selecting an effective outdoor digital display is how viewable is the content when exposed to direct sunlight. Anyone who has ever tried to use a laptop or watch television outside knows that the brightness of the screen impacts visibility, whether the screen is in direct sunlight or even in the shade… If the image cannot be adequately seen, then a business' capital investment in an outdoor digital display solution is wasted."
Install Under Shade – If sunlight cannot be avoided, install the digital signage underneath something that will provide a good amount of shade, like an awning, shroud or umbrella-type shade. Sometimes the location is 'set in stone' and can only be installed at one particular place. By creating a shelter over top of the enclosure, the sun exposure will be greatly reduced. One very simple solution is to angle the enclosure and monitor downward to block the sun and increase signage visibility.
Optimal Temperature – While this is not always something that can be avoided, installing digital signage in an area that does not have extremely hot or cold temperatures is advantageous. Fritz Esker's article also discusses temperature variables, "While the brightness of the sun can affect the visibility of the display, so can weather conditions and the length of time the display is operating. Brightness will be lowered as much as 20 percent in adverse conditions, such as extreme heat or cold." Specifying the correct thermal management will make up the difference for installations that do not have optimal temperatures. Depending on the installation and electronics specified, thermal management options vary from filtered fan system to air conditions to heat exchangers. Passively cooled or vented LCD enclosures are also available for mild temperatures and installations that will only be in use seasonally, such as a stadium.

Location is one of the most vital things to consider when deploying outdoor digital signage. If none of the described situations are unavoidable, know there are outdoor digital signage solutions that will overcome any of the challenges outdoors. Consult with an enclosure company that has experience and a successful track record with installing digital signage in all-weather outdoor environments. More robust electronics, such as LCDs with at least 1500 nits or a media player with a heat tolerance of up to 50°C, may be required to ensure the digital signage project is a huge success!


For more information about outdoor LCD enclosures:

-- 5 Advantages of Deploying Outdoor, All-Weather LCD Enclosures
-- 5 Tips for Deploying Outdoor Digital Menu Boards

-- 3 Factors that Affect Thermal Management for Outdoor LCD Enclosures

-- How to Plan for an LCD Enclosure Installation


HAVE QUESTIONS? LET US KNOW HOW WE CAN BEST ASSIST YOU!
CONTACT AN 'ITSENCLOSURES EXPERT' AT 1-800-423-9911 -OR- SEND US AN EMAIL:INFO@ITSENCLOSURES.COM