During the manufacturing process, the food and beverage industries must adhere to strict guidelines regarding product safety and contamination .
Industrial plants and factories must ensure that all machinery, including computer enclosures, are regularly cleaned and contaminant-free. The washdown procedure removes residue and waste materials to preserve the highest food and beverage quality.
Electronics play a very critical role in food processing. Due to the harsh environment, a high quality, well-constructed computer cabinet is key to preventing costly and unnecessary downtime. Type 304 stainless steel construction, a sloped design, and sanitary legs are vital features to a NEMA 4X computer enclosure. However, food particles and other waste can collect in crevices on the doors.
NEMA 4X computer cabinets must possess the following door features to streamline the cleaning process:
Hinges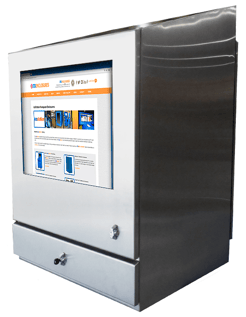 Lift off hinges - with removable pins - are a must on a pc enclosure when being deployed in food production areas. These enclosure hinges allow for the door(s) to be removed easily and thoroughly cleaned. Specialty hinges will also minimize entrapment of food particles. Avoid a NEMA 4X enclosure that utilizes a 'piano' or continuous hinge, because of the difficulty to clean during the wash down procedure.
Latch
Quarter turn or knob style stainless steel compression latches are perfect for keeping cleaning chemicals away from internal electronics, as well as, providing a smooth surface to wash. A traditional lift and turn style latch is not acceptable for a washdown applications, as they are difficult to clean.
Gasket
Dual durometer EPDM gasket offers a strong, durable sealing solution around the cabinet's doors. The superior compression and water resistance will provide high performance in a washdown application. Be sure to confirm the enclosure's gasket and adhesives are compatible with stainless steel and can withstand harsh, high pressure cleaning.
Maintaining sanitary food production areas can easily be achieved by selecting a computer cabinet that is well constructed, designed, and sealed from the outside environment. If you are unsure where to start, consult with a reputable enclosure company that has experience in the food and beverage industries.

For More Information:
-- Best Accessories for Freestanding NEMA 4X Computer Enclosures
-- Cleanliness and Computer Enclosures
-- NEMA 4X Computer Enclosures in Food Processing
HAVE QUESTIONS? LET US KNOW HOW WE CAN BEST ASSIST YOU!
CONTACT AN 'ITSENCLOSURES EXPERT' AT 1-800-423-9911 -OR-
SEND US AN EMAIL: INFO@ITSENCLOSURES.COM