Presell boards at a Quick Service Restaurant drive thru can be the store's most influential marketing tool for customers waiting to order.
With eye catching and glitzy imagery or video, limited time offers or food and drink specials can be highlighted in a unique and fun way. This can lead to bigger orders and more revenue for the restaurant. As the article, 'Outdoor Digital Signage Lights Up QSR Industry' states, "some QSR operators see as much as 70 percent of their sales from people who never walk in the store…Because of the enhanced, personalized customer experience digital menu boards bring, QSRs are in a position to upgrade their old displays and start reaping significant financial benefits from these new digital displays."
Here are 3 quick benefits of deploying a Presell Board
Content Change Flexibility:
With digital presell boards, a QSR can make a seamless daypart transition – in other words, the menu can change from breakfast to lunch to dinner to late night with a simple click of a button, or on a scheduled rotation. Since each daypart may have its very own special, a QSR can maximize profits by pushing highly profitable featured items through attention grabbing, visually appealing content.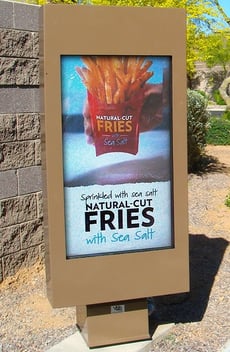 Also, when necessary, caloric information can be changed on the fly.
Lower Operating Costs:
Simply put, using digital will eradicate the use of static signage! QSRs will no longer have to print massive quantities of static/unappealing signs every time there is the slightest menu change. Additional overhead costs, such as shipping and installation of the signs, will also be eliminated. Updates to the digital menus can be done remotely by one person in real time and multiple times an hour, as necessary. Now, that's fast service with a smile!
Improved Customer Experience
Videos or animations greatly impact the customer, especially before they reach the point of order. A presell board will drive product awareness and deliver a compelling message. In fact, with a rotation of 4-5 product slides or animated graphics, a customer will be well-informed of current specials and promotions at the restaurant.
When deciding on a digital menu board partner, make sure that the company you choose has products that have been proven and field tested to work in any environment. Take the time to review a company's website and be aware of pictures that may be doctored up in Photoshop. A company with presell boards installed at real restaurants will have real pictures with high bright monitors. Always be skeptical of generic graphics on generic screens! If the company claims to have installations across the country, then it should be easy to find and review a digital board in your area.


For More Information:
-- Can You Afford Not to Install a Presell Digital Menu Board? Digital Sells More!
-- 4 Helpful Tips for Deploying Presell Digital Menu Boards
-- Best Practices for Installing Outdoor Digital Menu Boards
HAVE QUESTIONS?
LET US KNOW HOW WE CAN BEST ASSIST YOU! CONTACT AN 'ITSENCLOSURES EXPERT' AT 1-800-423-9911 -OR-

SEND US AN EMAIL:

INFO@ITSENCLOSURES.COM