In the manufacturing sector, NEMA rated, heavy-duty enclosures are an absolute must to protect electronics from unforgiving elements like dust, dirt, particulate matter, contaminants, and splashing fluids.


Industrial computer enclosures have evolved over the years and must continue to evolve to keep up with growing technological advances. Flat, widescreen monitors - on a factory floor - were unheard of 15 years ago, but now companies around the globe use them daily. Furthermore, one widescreen monitor is simply not enough space for everything that needs to be displayed to 'get the job done.' Enclosure fabricators have begun introducing dual monitor enclosures that can manage two widescreen monitors, a printer, a computer, a keyboard/mouse, and additional necessary electronics. A workstation for a new generation!
The benefit of having two screens - in one enclosure - comes down to just three words: screen real estate. According to a University of Utah study summarized on Laptopmag.com, "adding a second monitor led to major improvements in productivity. Task focus improved, recovery from mistakes was easier, and switching between documents and apps was smoother. The biggest takeaway: Overall productivity improved by 29 percent."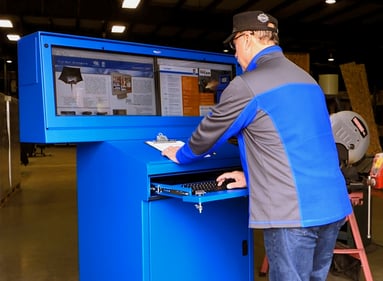 Dual monitor enclosures offer a user the ability to use one screen for a blueprint or detailed drawing and another screen to check email or monitor a process in real time. Having multiple windows open at the same time has never been simpler. Efficiency to perform tasks is straightforward and less time consuming. Tablets or iPads on the plant floor are great in theory, but can be difficult to use without a physical keyboard or large screen or when not charged appropriately. Mobile devices also face the difficulty of wireless signal access versus the high throughput signal of wired devices.
Another advantage of having two monitors in one enclosure – the free-standing pc enclosure takes up less floor space, which makes it beneficial to an overcrowded factory or warehouse. In the past, two freestanding enclosures would need to be ganged together or installed near each other in order to utilize two monitors by one user. This required bothersome cabling and more headache than it was worth. Plus, it was too expensive to purchase two cabinets for use by only one person.
Designed by ITSENCLOSURES (the leader in built-to-last enclosures), the IceStation TITAN Hammerhead dual monitor enclosure provides a NEMA 12 enclosure, which can securely house two 27-inch screens with a large amount of screen real estate. The front cover flips down for installation of the monitors and the bottom portion offers an abundance of room for a printer, a computer, a UPS, and additional important electronics required to perform daily tasks. Plus, with heavy-duty castors, the Hammerhead can be wheeled around the floor, to different stations, with ease.
Lockable doors keep everything secure and free from damage. USB ports can be added to plug in a handheld scanner or to simply plug in a smartphone for charging. A rear split panel is installed on the cabinet to run cables, wires, and cords into the cabinet.
One of ITSENCLOSURES' premier products, the TITAN Hammerhead was one of the first dual monitor enclosures on the market and is available in a desktop version as well.
It is the best NEMA 12 enclosure for hostile environments and will help to eliminate costly downtime! The goal of IceStation enclosure cabinets has always been to extend a company's electronics' useful life.
For More Information:
-- Creating the Perfect IceStation TITAN Hammerhead Computer Enclosure
-- IceStation TITAN Hammerhead Dual Monitor Enclosure
-- IceStation TITAN Dual Monitor Enclosure
HAVE QUESTIONS? LET US KNOW HOW WE CAN BEST ASSIST YOU! CONTACT AN 'ITSENCLOSURES EXPERT' AT 1-800-423-9911 -OR- SEND US AN EMAIL: INFO@ITSENCLOSURES.COM