When enclosing LCDs outdoors, there is not a 'one size fits all' solution.
Numerous factors should be considered, such as the number of screens, type of electronics (monitor(s), media player), the electronics' operating temperature, solar load throughout the day, a portrait/landscape configuration, the geographic installation location, the mounting configuration, and enclosure construction…just to name a few. Each of these factors can affect the lifetime of a digital signage solution. However, the right thermal management is the most critical factor to consider when planning for a digital deployment.
It is common for a system integrator to become frustrated with an enclosure manufacturer, because they cannot provide exact specifications or pricing without further research and multiple questions. In a nutshell, system integrators desire to find a solution which is quick, easy, and as inexpensive as possible for the end user. However, most companies do not have off-the-shelf products, readily available in assorted sizes, utilizing various monitors, and incorporating a variety of thermal management systems. Many instances will require a custom enclosure with proper cooling or heating, which will need to be expertly planned and designed by an engineer. Therefore, the overall timeframe for completion of the project could be longer than anticipated (weeks or months). LCD enclosure projects should not be rushed, and all bases should be covered to ensure that the digital signage system will not fail and need to be replaced or prematurely repaired.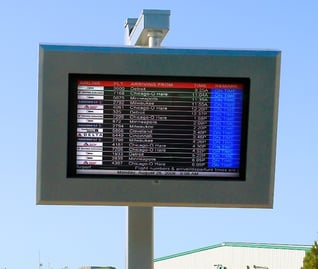 There is a science that goes into configuring the RIGHT outdoor LCD enclosure to ensure the digital signage message is visible 24/7 regardless of environment. If temperatures exceed the recommended operating temperatures, consider what will happen to the electronics on the inside of an enclosure.
Studies conclude that electronics exposed to a 10°C increase in temperature can reduce the life of the electronics in half! On a clear day, when the solar gain is strong, the inside of the enclosure will become hot very quickly, regardless of the actual external temperature. If electronics become too hot for an extended period of time, the solution becomes unreliable and will most likely cease working. This will not be the best result for the integrator or end user!
Failing to use the correct enclosure cooling method can be disastrous! Not only will the electronics suffer, but manufacturer warranties may also be 'in void' if the LCD or media player was maintained outside of the recommended operating temperatures.
The old expression rings true: "You don't know, what you don't know." It is advisable to work with a trusted, experienced enclosure manufacturer that has a successful proven track record of protecting electronics outdoors. If you are unsure if the solution is right for the application, always ask questions and take copious notes! In the blog, "How to Create a Successful Customer Experience Using Digital Signage", it clearly states that digital is the future and must be taken seriously, "When used correctly, digital signage displays can be tailored and flexible to the whims of customers, as well as being cost-effective to implement with high-impact results. Static signs and billboards are great, and cheap, but with 63 percent of people reporting that digital signage catches their attention, it's an area you can't afford to ignore."
For More Information:
-- Location is Everything When Deploying Outdoor Digital Signage
-- 5 Advantages of Deploying Outdoor, All-Weather LCD Enclosures



HAVE QUESTIONS? LET US KNOW HOW WE CAN BEST ASSIST YOU! CONTACT AN 'ITSENCLOSURES EXPERT' AT 1-800-423-9911 -OR- SEND US AN EMAIL: INFO@ITSENCLOSURES.COM