"It starts with a strong digital signage content strategy!"



While this statement is very true, there is more to an LCD enclosure project than most people realize. During the planning phase, you must consider not only the marketing message, but also the network, design, content, and above all – the hardware. Digital signage lives through the hardware, and the hardware cannot function without quality content.A primary purpose of digital is to set vendors apart and differentiate themselves in a competitive marketplace. Ensure that the message is both compelling and visible. According to Bradley Cooper, in his article '3 Future Trends Set to Change the Digital Signage Landscape,' digital signs must be engaging and eye-catching, "It is absolutely necessary to stay on the cutting edge of digital signage trends to avoid becoming mere 'background noise'… End users realize they need to stand out to avoid turning into another annoyance to customers."

In this blog, we focus on two LCD hardware factors that will affect the outcome of the digital sign installation.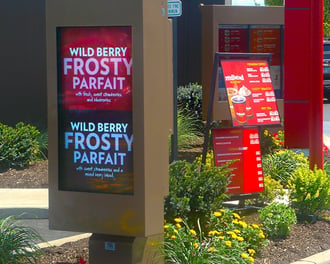 Resolution

Consider the distance in which the consumer will be viewing the digital signage. The LCD resolution, required for an outdoor digital menu board, will vary greatly compared to signage viewed from a road. Content viewed from 10-feet or closer, will require a much higher resolution – likely 1920 x 1080. However, if this same message is viewed 50-feet from a street, it would be extremely difficult… if not impossible to read. For further distance viewing, a large LED display board may be used. LED is measured in the number of pixels that are necessary to obtain the necessary brightness to display the words, graphics, and animations.

Brightness

Research the brightness, or the "nits" that the LCD produces. In direct sunlight and/or outdoor applications, 1,500 nits of brightness (or greater) are necessary. Many display manufacturers use the buzz word "high bright," but upon closer review are only 750 nits or less. For example, consider the outcome when viewing your iPhone or Android smartphone screen on a sunny day – you can barely make out the display. The same effect occurs when using an LCD that is not bright enough outdoors. Failing to choose a high bright LCD will cause content to be unviewable and, therefore, ineffective.
When choosing the hardware and software to drive the overall digital sign strategy, reliability should always be a top priority. Although LCDs are commonplace now, a properly executed solution starts with the hardware chosen for the project. Great content and high-quality hardware will give advertisers the necessary boost to catch the eye of the audience.


For More Information:
-- 7 Questions for Developing an Outdoor Strategy
-- 3 Items to Consider for Installing Outdoor Digital Signs
HAVE QUESTIONS? LET US KNOW HOW WE CAN BEST ASSIST YOU!
CONTACT AN 'ITSENCLOSURES EXPERT' AT 1-800-423-9911 -OR- SEND AN EMAIL TO: INFO@ITSENCLOSURES.COM