When deciding on the perfect outdoor LCD enclosure, a good bit of emphasis is put onto the outdoor environment.
Will the LCD be exposed to direct sunlight? What are the high and low temperatures? What electronics will be used inside of the enclosure? What type of thermal management is needed? These are all common questions an enclosure company will ask to make an appropriate recommendation. With that being said, preparing to install digital signage outdoors includes a number of risks and hazards. The installation should be well planned to prevent potential problems. Installing digital signage that is heavy and in an area it was not originally intended can pose a risk to the public.
Failing to follow proper procedures and local building codes can be catastrophic. It could lead to a lawsuit or serious injuries to customers and employees.
Mounting Structure
On average, an enclosure with an LCD inside weighs approximately 200-250 lbs. Existing structures are, most likely, not built to withstand the additional weight of an LCD enclosure. When specifying a mount, knowing what type of structure the enclosure will mount to is vital – metal beam, wood, brick, concrete, or a cement block? You never want the enclosure to fall off of a wall or drop from a ceiling! It must be secured by a certified installation professional. Safety chains (see image below) may be required for additional reinforcement on overhead installations, especially in stadium and transportation environments where high levels of vibration are present.
Wind Load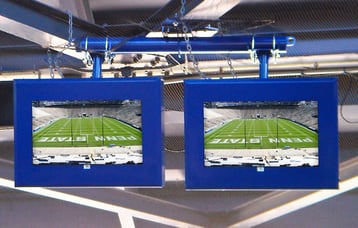 Mother Nature, in the form of blustery wind, can pose additional risks if not properly planned. The force of wind can put additional pressure on the structure and create a vacuum. According to Stuart Sweet, in his blog 'What is Wind Load?' "[Wind load] describes how much wind affects something. It's a combination of how much wind you have, how much drag the object has, and how big it is." Determining wind load is critical to the design and installation of structurally sound and safe equipment. Wind load is affected by the size and shape of a structure. It is imperative to note that the higher the signage is installed, the greater the wind load.
Building Codes
It is also very important to have a good understanding of the local building codes where the digital signage will be installed. A wall, ceiling, or cement pad must be engineered to accept the weight of the outdoor signage. If you are unsure where to start, consult with structural and civil engineers that are working on the project. In some instances, stamped and signed engineering drawings may be required to install the digital signage in public spaces. However, be sure to ask at the beginning if this is a requirement. This process can be quite expensive and should be figured into the budget prior to awarding the job.

The ability to break the cycle of specifying products based on the lowest price can be a difficult task. It can lead to cutting corners on the installation and equipment. Oftentimes, cutting corners will lead to additional expenses down the road, when products have to be replaced. The (great) outdoors presents different challenges that do not exist indoors. What normally works indoors, will likely not perform well in an outdoor environment.


For more information, visit the following blogs:

- Location is Everything When Deploying Outdoor Digital Signage

- 5 Advantages of Deploying Outdoor, All-Weather LCD Enclosures

- 3 Important Questions to Ask Prior to Deploying Outdoor LCD Enclosures



HAVE QUESTIONS? LET US KNOW HOW WE CAN BEST ASSIST YOU! CONTACT AN 'ITSENCLOSURES EXPERT' AT 1-800-423-9911 -OR- SEND US AN EMAIL: INFO@ITSENCLOSURES.COM