As an integrator, it is often difficult to narrow down a request from an end customer.
It is not uncommon for a customer to say "I want to put an LCD outdoors. Can you please help me find a way to protect it from the elements?" Unfortunately, there is not a "one for all" enclosure solution that will work anywhere and at an affordable price. It is simply not that easy.
There is a bit of a science to allow an LCD to work outdoors properly, where it is not originally intended to be used. Many companies claim to provide LCD enclosures that can be used outdoors, but many variables cannot be ignored. A number of questions should be posed, by an integrator to the end customer, prior to providing an outdoor LCD enclosure recommendation.
3 Vital Questions to Ask
Where will the enclosure/display be installed – i.e. city and state?
When determining an enclosure solution, the planned geographic area of the installation is extremely important. Enclosing electronics outdoors will always require, at the very least, a vented cabinet to permit air flow and allow the electronics to appropriately breathe. Some areas will require a simple fan and/or heater system or more extreme environmental areas will require an air conditioning system. According to Geoffrey Morrison's article, 'Can I Use an 'Indoor' TV Outside?,' outside temperatures can destroy the monitor inside of the enclosure if not properly sealed, "the trick with an outdoor TV is to seal it up against the elements, but at the same time allow the heat generated to escape. Usually this means extensive heatsinks, fans and a [custom-made] cabinet design. Many models have built-in heaters to maintain a specific operating temperature and other features to help them survive in the wilds..." Therefore, the enclosure thermal management that is required in Boston, Massachusetts will be completely different from Las Vegas, Nevada.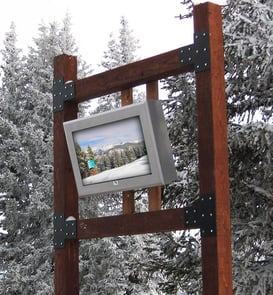 Will the enclosure be exposed to direct sunlight and weather?
Combined with the information gathered about the geographic area, exposure to direct sunlight and weather will require a specialized enclosure solution. An enclosure that will not receive any protection from a building or canopy will dictate at least a NEMA 3R cabinet rating. Closed loop cooling or heating will be necessary, as no openings or vents are allowed otherwise the electronics are at risk of water penetration… Obviously, electronics and water never mix! To learn more about the proper thermal management, fill out our easy-to-use Cooling Requirement Worksheet.
Have you chosen the LCD and media player that will be housed inside of the enclosure?
The hardware really matters! This is especially true if deploying in an all-weather environment. Never make decisions based solely on price. There is a reason why some LCDs cost more than other models. Considerations for how long the digital signage message will run (24 hours vs. 12 hours per day), the temperature range the electronics are rated for, and the brightness of the LCD should be researched prior to making any decisions. Manufacturers list the operating range, as well as the run time the LCD is rated for, in the specifications generally found on their website. Using an LCD for an extended period of time - when not recommended - will put your warranty in jeopardy. Same rule of thumb applies if the LCD is exposed to temperatures that are higher or lower than the suggested operating range. Many LCDs are marketed as a "high bright" or "the perfect outdoor screen," but anything less than 1500 nits is simply not sunlight readable outdoors. The sun will greatly affect the display visibility, according to the 'Display Brightness vs. Ambient Light' blog on Dynascan's website, "Ambient light, or the light present in an environment from all light sources, is the number one cause of degraded display performance in a system. Ambient light affects image contrast by reducing the range between the dark and bright portions of the image. Ambient light also reduces the appearance of color saturation and degrades color accuracy. Sunlight is the greatest contributor of ambient light for most outdoor and semi-outdoor installation locations."

Educating both yourself and the end customer will help everyone understand why a certain LCD enclosure solution is required over another. By asking three simple questions, that were outlined in this blog, you will ensure the best decision is made and the digital signage project is a success! Discussing these questions may even have you come to the conclusion that you want to locate the display in a shaded area that will not require a complicated enclosure system, but rather just a protective cover. It will help you weigh the pros and cons of deploying digital signage outdoors.
For more information:
HAVE QUESTIONS? LET US KNOW HOW WE CAN BEST ASSIST YOU! CONTACT AN 'ITSENCLOSURES EXPERT' AT 1-800-423-9911 -OR- SEND US AN EMAIL: INFO@ITSENCLOSURES.COM