Looking for a desktop computer enclosure that can house a widescreen monitor (up to 24"), keyboard, mouse, and computer?
Introducing the NEMA 12 IceStation Desktop TITAN by ITSENCLOSURES!

Measuring 31-inches high, 30-inches wide, and 30-inches deep, the 14-gauge steel, half-height TITAN is a heavy-duty, industrial enclosure that will guard your valuable electronics against dust, dirt, lint, grease, and light splashing fluids.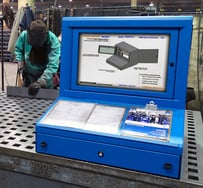 Out of the box, the Desktop TITAN includes the following:
Viewing window: 24-inch tempered safety glass

Polycarbonate window available (special request)
Option to upgrade the enclosure window to accommodate a 27-inch monitor

Adjustable monitor shelf with built-in VESA mount
Integrated keyboard drawer with ergonomic wrist rest
Sloped work surface for documents, drawings, folders, and pencils


Additional options are available to create the 'perfect' Desktop TITAN

Add-on accessories:

Bolt Down Pedestal – A bolt down pedestal for the desktop TITAN can create a standalone workstation for end users. The steel pedestal creates stability and is adjustable vertically (33 to 43-inches, 1-inch increments) to create a suitable height that will work for most workers. Powder coated in black, the pedestal can also be powder coated in any custom RAL color.

Mobile Pedestal – If the pc enclosure needs to be positioned in various locations on a factory/manufacturing floor, the desktop TITAN can be fitted on a mobile pedestal. The pedestal is 11-gauge material, painted (black) cold rolled steel. The four casters have a 3.5-inch wheel diameter and the front castors are lockable, while the rear swivel.

ROX Cable Entry Gland – To run cables into the enclosure, a sealed cable entry gland can be installed on the pc enclosure to provide access to power the electronics. Cables can be routed through close-fitting modules, which will protect against water entry. The modules peel away (like an onion) to allow for varying cable diameters. Modules are installed around the cables and a compression unit is tightened for a compact seal.



Surge Protector – All Desktop TITANs require power and adding a 6-outlet surge protector to the inside of the TITAN will enable a user to plug in up to six electronic units, including a monitor and a computer.

Thermal Management – A filtered fan system, air conditioner (1,000 BTU or 1,800 BTU), heat exchanger (NEMA 12), vortex cooling unit, and various small heaters can be added to the Desktop TITAN. If unsure which system will work best for your specific needs, consult an ITSENCLOSURES representative for a cooling (or heating) recommendation.




The IceStation half-height TITAN is available in Blue, Gray, or any custom RAL color of your choice! If you need an enclosure (in an industrial setting) for a desk, table, or countertop, then the desktop TITAN is the perfect choice.


For More Information:
-- How to Create the Perfect NEMA 4 TITAN PC Enclosure
-- Creating the Perfect IceStation TITAN Hammerhead Computer Enclosure
-- How to Create the Perfect IceStation TITAN Computer Enclosure
HAVE QUESTIONS? LET US KNOW HOW WE CAN BEST ASSIST YOU! CONTACT AN 'ITSENCLOSURES EXPERT' AT 1-800-423-9911 -OR- info@itsenclosures.com