Upscale outdoor shopping malls seem to be popping upeverywhere in suburbia. The popular trend for deploying digital signage runs parallel with the growing number of outdoor retail outlets.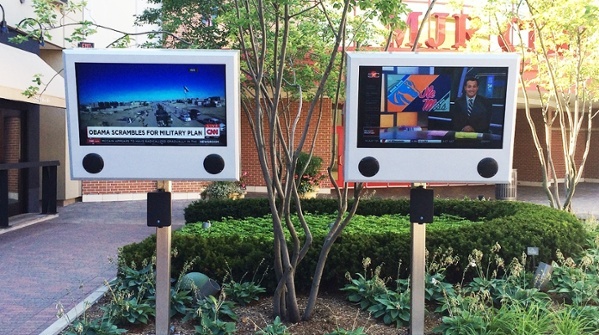 From wayfinding to advertisements, digital signage plays a major role at outdoor malls. Celia Anderson, in her article for Digital Signage Today, describes how digital is influential, "Sixty-three percent of people report that digital signage catches their attention. This percentage is significantly higher than TV, Internet and billboard advertising. Retailers are choosing digital signage due to its low cost and flexibility, but high impact is the key advantage."
A big decision when planning an outdoor digital signage project is to determine if the environmental LCD enclosure or kiosk should include a touchscreen. The answer is not as easy as one would think. Some retailers may actually need a combination of non-touch and interactive touchscreen directories.
Considerations for Using Touch vs. Non-Touch LCD Enclosures
The first step in determining if touchscreen is the right option for a digital signage project is to understand how the content is going to be presented to the viewer. As Kelly Eisel explains in her blog, "Lack of focus leads to confusion. Digital signage is meant to streamline communications, not muddle them."
It is best to steer away from touch when simply presenting modest, graphic-based content that will be frequently changed or updated. Touchscreen LCD enclosures work best when the message is clear and concise. If someone walks up to the screen and cannot decipher where to look or click, then the touchscreen becomes ineffective. Always keep it simple, but relevant.
Also, consider if multiple users will be accessing or viewing the information displayed on the touchscreen LCD enclosures at the same time. Too many fingers pointing at too many areas could actually make the touchscreen slow or unresponsive, which, again, renders it useless.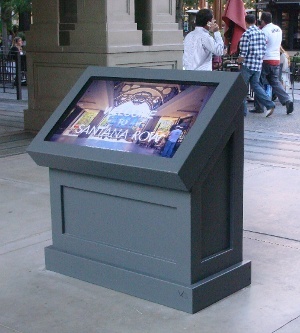 When it comes to outdoor shopping malls, a non-touch store directory requires much more real estate to communicate the same information. Digital signage that utilizes touchscreen technology can creatively display store directories, current specials or limited time coupons. These exciting options have the potential to be a great revenue generator for the owners of the shopping mall or individual stores.
Overall, when comparing touch and non-touch kiosks, the most important consideration is space. Interactive touchscreen LCD enclosures are capable of presenting a good bit of information in a compact or limited space, but that does not mean to throw everything at the wall and see what sticks. The overall message is most important.
Doug Bannister, Chief Executive Officer and Chief Technology Officer of Omnivex Corporation, which creates content for digital signage, explains how retailers are taking advantage of emerging technology, "Retailers need to create an immersive and personalized shopping experience… These days paper catalogues have now taken the form of self-serve kiosks that allow customers to view a retailer's full offering and place orders without having to go up to the checkout… Retailers that want to leapfrog the competition have realized creating an immersive digital experience in their stores is key."
If the decision is to install a touchscreen, integrating touch into an outdoor LCD enclosure requires a few considerations. The most effective digital signage retail directories will always share relevant information, educate the audience and enhance the overall user experience.
HAVE QUESTIONS? LET US KNOW HOW WE CAN BEST ASSIST YOU! CONTACT AN 'ITSENCLOSURES EXPERT' AT 1-800-423-9911 -OR- SEND US AN EMAIL: INFO@ITSENCLOSURES.COM