Touch foil allows users a smooth 'touch experience' on large format LCDs and transforms non-conductive surfaces into interactive surfaces.
Traditionally, touchscreen foil is applied to an LCD enclosures' glass window and transforms a standard commercial grade LCD into an interactive LCD. Sensors, combined with a flexible foil, are adhered to curved or flat surfaces to enable a unique user experience. According to the visualplanet website, "Touch foil is constructed of two clear, micron-thin laminated plastic sheets with an embedded mega-thin grid of sensing wires that lead to an electronic controller. When the glass is touched, the location is identified through the glass on the touch foil's wire grid and communicated via the controller to the computer to carry out the action on the screen – just like using a mouse."
There are many benefits, beyond the interactive feature, that make touchscreen foil an attractive option when deploying outdoor LCD enclosures.
Cost Effective to Install Outdoors
Projective capacitive touchscreen foil has the unique ability to turn any LCD into an interactive, stimulating display. It is particularly attractive when deploying touch in the great outdoors. Compared to outdoor rated LCDs that boast enough brightness (1,500 nits or greater), weather resistance and a high variance in temperature fluctuation, touch foil is significantly less expensive to install outside. In addition, the solution is vandal resistant! There is peace of mind that the LCD enclosures will withstand the test of time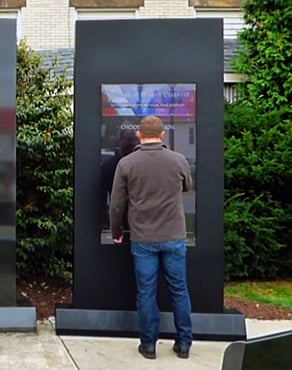 .
Resistant to Liquids, Weather, UV Rays and Vandalism
Touchscreen foil is applied to one side of the glass (interior), while the user touches the other side of the glass (exterior). The sensor does not experience any physical wear from hands touching the glass, thus it is resistant to harsh environments, as well as vandal proof. It is important to note that the interior of the enclosure must be properly maintained within the suggested operating temperatures. In fact, the presence of water (snow, rain, sleet) will not hinder the effectiveness of touch foil - indoors or outdoors.
Permanent or Removable Versions
Touchscreen foil is available in permanent and not so permanent (removable) versions. Permanent touchscreen foil will enhance the LCD's contrast and readability. A removable version can be used for temporary deployments or special events. The removable version allows the sensor to be reused multiple times before disposal. During the enclosure quoting process, be sure to specify the correct version.

Whether the application is retail, entertainment or wayfinding, projected capacitive touchscreen foil allows for flexibility. Touchscreen foil can turn non-conductive materials like glass, wood or other specialty materials into a fascinating experience for end users.

For more information:

-- Touchscreen LCD Enclosures vs. Non-Touch for Retail

-- How to Integrate Touchscreen into an Outdoor LCD Enclosure

-- 4 LCD Enclosure Trends on College Campuses

-- Touchscreen Technology Available for Computer Enclosures
Still Have Questions? LET US KNOW HOW WE CAN BEST ASSIST YOU! CONTACT AN 'ITSENCLOSURES EXPERT' AT 1-800-423-9911 -OR- SEND US AN EMAIL: INFO@ITSENCLOSURES.COM