A touchscreen is a powerful tool when deploying kiosks in public spaces.
With many benefits, touch foil provides a vandal and weather resistant solution for interactive digital signage. Many options exist on the market. The installation environment will dictate the version of touch-foil that will be most beneficial to the user.
With solutions ranging from indoor kiosks to train and bus shelters to vending machines to gaming, touch integration is as easy as a click of a button! According to Dr. Andrew Morrison's article, 'New Technologies Widen Touchscreen Opportunities,' "Rapid industry developments are delivering touchscreens which are thinner, higher performance, more reliable, and lower cost."

In order to make an informed decision, know the answers to the following 5 questions:
1. How many touch points?
Always understand your audience. For example, how many people will use the touch surface at one time simultaneously? Depending on the size of the LCD, will there be multiple users or simply one person using the LCD enclosure ? Touch-foil suppliers offer many popular options that include dual, 40, or even up to 100 finger touches simultaneously!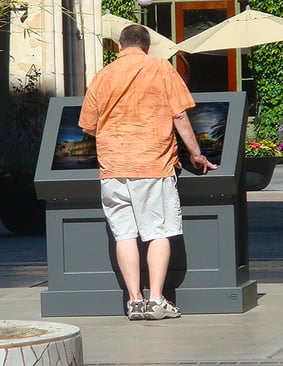 2. What driver or operating system will drive the touch software?
Be sure to confirm the touch foil is compatible with the intended operating system (OS). Most touch foil is harmonious with popular OS software, including Windows, Android, Linux, MAC and Chrome. In this case, it is important to specify the right operating system, so that the correct drivers are included in the touch solution.


3. What format is the LCD?
Touch foil is available in 4:3, 16:9, and special flat-panel display formats depending on the specific application. There are also innovative and creative options available to mount the touch foil to flat, rounded, or curved surfaces.

4. What is the thickness of glass related to the touch responsiveness?
Speed is a key component in the overall touch experience for a user. Touch foil is rated in milliseconds. The quickness of the response rate will always positively influence the user. In addition, the thickness of the glass will affect the responsiveness of the touch. Compared to an indoor kiosk, outdoor LCD enclosures require a thicker glass for the utmost protection.

5. What is the touch resolution?
The touch resolution optimization results in a more accurate and precise touch detection. In other words, a finger will touch a specific location and something will happen at that precise location. It will frustrate the user to hit a letter and wrong or unintended information appears on the screen, because the touch is not accurate. High touch resolution, in the touch sensor, allows for a smaller distance between fingers.

When choosing a solution, remember to always perform the proper research to ensure the end-user will have a smooth and easy-to-use touch experience. Based on exact needs, there are trade-offs depending on the installation environment and responsiveness of the touch. Dr. Andrew Morrison adds, "There remains no such thing as the 'perfect' conductive material for projected capacitive touchscreens – and designers should always look for the best combination of performance, optics, durability, scalability and reliability suited to their touchscreen application…However, the investment will almost certainly bring benefits to the commercial and industrial market..."

For more information, read these blogs:
-- Touchscreen LCD Enclosures vs. Non-Touch for Retail
-- 3 Benefits of Using Touch Foil on LCD Enclosures
-- 4 LCD Enclosure Trends on College Campuses
HAVE QUESTIONS?
LET US KNOW HOW WE CAN BEST ASSIST YOU! CONTACT AN 'ITSENCLOSURES EXPERT' AT 1-800-423-9911 -OR- SEND US AN EMAIL: INFO@ITSENCLOSURES.COM